Invest In a Water Filter for Your Washing Machine in Miami Gardens, FL
At Miami Water & Air, we're proud to offer homeowners in the Miami Gardens, Florida, area top-of-the-line water filters for washing machines. We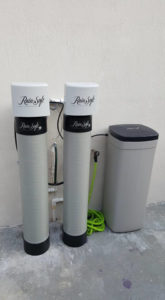 understand that laundry can be a never-ending chore, and it's our mission to make this task more efficient, cost-effective, and environmentally friendly for our valued customers.
How Water Filters for Washing Machines Work
The water filters for washing machines we offer are a game-changer for laundry. Using the power of ozone, this innovative system purifies and disinfects the water in your washing machine, resulting in cleaner, fresher laundry with minimal mineral buildup. Not only does it make your clothes last longer, but it also reduces water and energy consumption, offering a sustainable and cost-effective solution.
Why Choose Us for Your Laundry Ozone Water System?
At Miami Water & Air, we have extensive experience installing water filters for washing machines. We use the industry renowned RainSoft CleanStart® system that effectively yet gently removes stains and odors without detergent.
Our factory-trained technicians are also known for their exacting standards and meticulous attention to detail when it comes to installation of your water filter for your washing machine. We're so confident in their work we even offer a one-year installation guarantee.
On top of that, Miami Water & Air can create a comprehensive water treatment package for your home. Beyond a water filter for your washing machine, we offer many other solutions to consider, like drinking water purification and water softener systems.
Make the Smart Choice With a Water Filter for Your Washing Machine
Miami Water & Air is your trusted partner in the Miami Gardens, FL, area for extensive industry experience, premium products, exceptional warranties, and unparalleled customer service. Say goodbye to harsh detergents and high water bills. Contact us today to schedule a consultation and enjoy the benefits of our cutting-edge water filter for washing machines.