Aerus® Beyond Guardian Angel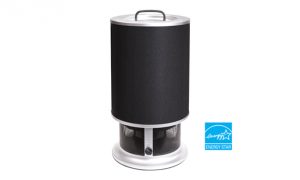 Looking for a compact yet powerful air purification system that packs a punch? Look no further than Aerus® Beyond Guardian Angel, a portable air purifier that covers up to 1,000 sq. ft. and requires no installation whatsoever. You'll never guess how efficient it is due to its whisper-silent operation, but in fact the Guardian Angel is ENERGY STAR® certified and capable of treating the air in your space 24/7 without producing ozone. With a long life backed by a limited five-year warranty, this is the perfect air purifier for offices, smaller homes, apartments, and college dorms. Featuring ActivePure® Certified Space technology, the Guardian Angel has been proven to reduce viruses, bacteria, fungi, and molds—as well as smoke, allergens, odors, and VOCs—at an astounding rate.
How Does the Guardian Angel Work?
With True HEPA, Activated Carbon, and PCO technologies, the Guardian Angel has your bases covered. Its True HEPA 5-stage advanced filtration reduces 99.97% of airborne contaminants as small as .3 micron, and its PCO technology combines UV light with titanium dioxide to effectively remove even the most stubborn pathogens. But don't take our word for it—read the scientifically proven results for yourself!
Scientifically Proven Results
The Guardian Angel combines world-class technologies with innovative design to create a whole new standard of environmental quality for your home or office space. It has proven efficacy in both lab and real-world settings, including a >99.99% airborne reduction rate of SARS-CoV-2—the virus that causes COVID-19—in just three minutes, and a 99.98% surface reduction rate in just seven hours (93.27% in three hours). The ActivePure® technology that the Guardian Angel harnesses reduces pathogens in real time, reducing the following contaminants after just one hour of treatment:
MS2 Bacteriophage RNA virus by 99.9999%
Phi-X174 Bacteriophage DNA virus by 99.993%
Staphylococcus epidermidis Gram-positive bacteria by 99.9999%
Erwinia herbicola Gram-negative bacteria by 99.999%
Aspergillus niger fungal mold (toxic black mold surrogate) by 99.99%
Bacillus globigii bacterial mold (C. difficile & anthrax surrogate) by 99.99%
ActivePure® technology is even proven against pathogens with hard levels of resistance, such as spores, mycobacteria, non-enveloped viruses, and fungi, including:
Staphylococcus aureus
H1N1 influenza (swine flu)
H5N8 influenza (bird flu)
MRSA
Listeria monocytogenes
Murine Norovirus
coli
Candida auris (fungus)
Botrytis cinerea (fungus)
Sclerotinia sclerotiorum (fungus)
Legionella pneumophila (bacteria)
Aspergillus versicolor (fungus)
Clostridium difficile (endospore)
Salmonella enterica (bacteria)
Your New Guardian Angel
Interested in a Guardian Angel for your home or office space? Don't hesitate to reach out to Miami Water & Air today! We've been helping to make Miami-area residents' air cleaner and safer to breathe since the 1980s, and we'd love to make you our next customer!