Premium Water Filtration Systems for Homes & Businesses in the Miami Metro Area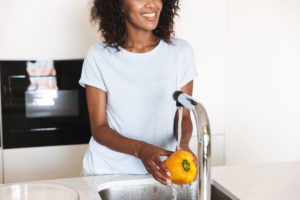 When you turn on the tap, you want to be sure that only the best-quality water comes out. Whether it's the water you bathe in, cook your family's food in, or serve to patrons at your restaurant, it needs to be free of chemicals and microorganisms that can have a negative impact on health and taste. Unfortunately, municipal and well water in the Miami, Florida, area often needs a little help to reach this level of purity. At Miami Water & Air, we're proud to install RainSoft water filtration systems, which deliver industry-leading performance for local homes and businesses.
Choosing the Right Water Filtration System
Miami Water & Air has been providing water filtration solutions in Miami-Dade, Broward, and Monroe counties for decades, giving us special insight into the issues that local homeowners and business owners typically have with their water. When you contact us, we'll begin by providing you with a free, no-obligation water test, allowing our experts to determine which water filtration system will work best in your home. Our solutions include:
Does your tap water have a foul taste and odor, making it unsuitable for drinking and cooking? If you get your water from a municipal water supply, the likely reason is that there is lingering chlorine from when it was treated. RainSoft's QRS whole-home carbon water filtration system dramatically reduces chlorine along with many other contaminants, giving you fresh, great-tasting water throughout your home.
If your water is rife with dissolved solids, such an iron, sulfur, and manganese, it may have a bad taste and smell like rotten eggs. Don't get stuck in an endless cycle of buying bottled water. Our EC5 OxyTech™ water filter removes these dissolved solids so you can enjoy great-tasting water straight from the tap.
Just because your water looks clear doesn't mean it's free of potentially harmful bacteria, viruses, and other microorganisms. This water disinfection system uses energy-efficient UV light to destroy microorganisms without the use of chemicals.
Learn More
By partnering with Miami Water & Air for a water filtration system, you can have complete peace of mind that you're making a smart investment. We offer the finest products from RainSoft and have only factory-trained technicians install them to ensure the project is completed correctly the first time. Additionally, you'll enjoy the protection of RainSoft's ironclad limited lifetime warranty. For more information about the water treatment systems we install for homes and businesses throughout the Miami, FL, area, contact us today.