Is Well Water Hard or Soft?
Jan 09, 2022
Is Well Water Hard or Soft?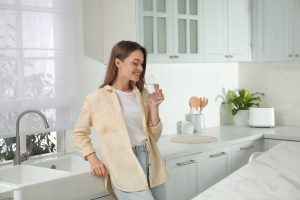 Are you purchasing a new home with a well? Maybe your current home's water supply comes from a well and you'd like to determine its water quality. Either way, you're probably asking yourself: Is well water hard or soft? We're diving into this question and more. Read on for all the answers you need about soft vs. hard water!
Soft vs. Hard Water
To understand your home's well water, it's important to first consider what actually differentiates hard water from soft water. Water isn't inherently "hard," but it's called "hard" when it becomes infused with minerals, such as calcium and magnesium. These minerals are abundant in soil, which means that well water often becomes hard as it's exposed to the minerals in the soil surrounding it. So, your well water is likely hard, unless your home has a water softener installed.
Water Softener Systems for Homes With Hard Well Water
Just because your home's well water might be hard doesn't mean you have to deal with hard water coming out of your taps and showers. After all, hard water can leave hard-to-clean stains on your bathtub and shower, stubborn water spots on your dishware, and can even shorten the lifespan of your water-using appliances by leaving mineral buildup in your pipes. Fortunately, there's a solution: water softener systems. A water softener system can efficiently treat your whole home's water supply, removing minerals that can cause the aforementioned less-than-desirable results.
Water Softener Installation for Miami Area Homeowners
Now that you've determined how to tell if your home's well water is hard or soft and read up on the benefits that a water softener can provide, you're probably itching to have one installed at your residence. That's where Miami Water & Air comes in! We're the local pros to turn to for all your water and air treatment needs. With more than 30 years of experience installing and repairing water and air treatment systems for Miami area homeowners, we've earned the trust of many of your neighbors, and we'd love to make you our next customer. We're confident you'll be impressed with our work—after all, all of our installers receive extensive factory training, and we back our work with a one-year installation guarantee as well as a limited lifetime warranty! Finally, we service and repair all of the water softener treatment systems we install, so you can rest easy knowing we have your back in the unlikely event that something goes wrong.
Reach Out to Learn More
Interested in learning more about our water softeners or the other water/air treatment systems we install? Don't hesitate to reach out to us today! We offer free home water tests to all our customers to help determine the quality of your home's well water. And, once the results of your home water test are received, we'll help you make a decision about which water treatment system is right for your home. We also offer same- or next-day installation so you won't have to wait ages to have your home's water treated after learning what may be contaminating it! Contact us today to learn more about this process and our convenient financing options or to schedule your free home water test.