How to Avoid Hard Water Stains on Glassware
Nov 10, 2021
How to Avoid Hard Water Stains on Glassware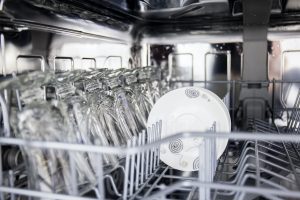 Is there anything more frustrating than opening the dishwasher only to find your nice glassware covered in hard water stains? These stains can be unsightly, making it embarrassing to serve drinks to guests. Hard water stains can also ruin your glasses over time, prompting you to need to replace them every so often—something you probably don't want to do.
Fortunately, there are things you can do to avoid hard water stain buildup on your glassware. Read on for our top tips and tricks for keeping your glasses looking pristine!
Clean Your Dishwasher Regularly
When's the last time you cleaned out your dishwasher's filter? If you can't remember, it's time to add this task to your to-do list! Even if you rinse your dishes before placing them in the dishwasher, inevitably some food and grease will get left behind. And when food debris builds up in your dishwasher's filter, the filter can't effectively do its job anymore, leaving your glassware less than beautiful. While cleaning your dishwasher won't have an effect on hard water stains, it'll still help your dishwasher clean your glassware more effectively, helping to improve the overall appearance and cleanliness of your dishes.
Choose the Right Dishwasher Detergent
If you're like most people, you probably reach for whatever dishwasher detergent is on sale. But did you know that not all dishwasher detergents are made equal? It's true! In fact, some dishwasher detergents are specially formulated to help combat hard water stains on glassware. This is an especially great solution for those who are renting their homes and are unable to have a home water softener system installed.
Try a Home Remedy
There's a home remedy for everything, and hard water stains are no different! Different people swear by different remedies, so your best bet is to try them all out and determine for yourself which one works the best. Some scrub their glassware with a concoction of vinegar and baking soda, yet others with toothpaste, and still others use lemon juice to remove hard water buildup. The point is simply to use something acidic, as acid is known to cut through mineral buildup. Some homeowners even place a little dish of vinegar in the top rack of the dishwasher during the wash cycle.
Invest in a Home Water Softener
Don't want to spend time scrubbing your dishes after they come out of the dishwasher? We don't blame you! The easiest, simplest way to avoid hard water stains on glassware is to have a top-of-the-line home water softener system installed at your home, like those offered by Miami Water & Air. A home water softener system will remove the minerals from your home's water supply, resulting in cleaner glassware—as well as better-tasting water and easier-to-clean showers and tubs.
Turn to Miami Water & Air
Don't spend another minute stressing out about the hard water stain buildup on your glassware. Contact Miami Water & Air today to have a home water softener system installed at your residence. We proudly serve residents of Miami, Florida, and beyond!