North Miami, Florida's Source for Water Filters for Washing Machines and Detergent-Less Laundry
Doing laundry just got a whole lot better with a cutting-edge water filter for washing machines. This revolutionary system – the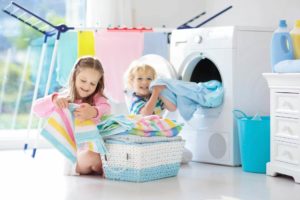 CleanStart® laundry system by RainSoft – uses the power of tap water and ozone to clean your clothes without detergent. It simplifies laundry for homeowners across North Miami, Florida, and surrounding areas, as well as saves energy on hot water and reduces skin irritation from harsh detergents.
How Water Filters for Washing Machines Work
With the RainSoft water filter for washing machines, an automated system injects a precisely controlled amount of ozone into the water as your washing machine begins its cycle. During the wash, this ozone penetrates the fabric threads, acting as a potent cleansing agent.
Not only does this water filter for washing machines remove dirt and stains, but also disinfects fabrics, ensuring a thorough wash. Water doesn't even have to be heated to work, meaning less energy is used during laundry.
Why Choose Miami Water & Air?
With more than three decades of experience, Miami Water & Air is your trusted water treatment specialist, including for water filters for washing machines. We are known for delivering industry leading products, like the RainSoft water filter for washing machines, as well as exceptional value and top-notch service.
To start, our experts will assess your water treatment needs and recommend the perfect solution for your budget. You can also trust us for factory-trained technicians who will install your ozone water system for laundry quickly and ensure it functions flawlessly before leaving.
Ready for Detergent-Less Laundry?
You can stop wasting money on harsh detergents that wind up harming your clothes over time. Instead, enjoy a better way of doing laundry, one that's healthier for your family and the planet.
Contact Miami Water & Air today to learn more about our water filters for washing machines, available in North Miami, FL, and surrounding communities.