Is Hard Water Bad for Aquariums?
Jun 02, 2022
Is Hard Water Bad for Aquariums?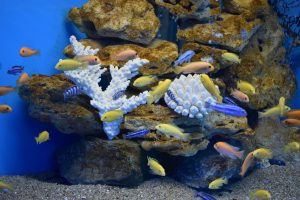 Pets can make a huge difference in your quality of life. After all, they're always waiting for you at home to provide comfort and unconditional love after a long day. Sometimes, however, furry friends can be too much responsibility. But even if you don't have the bandwidth to adopt a dog or cat, you should still be able to reap the joy that having a pet can provide. That's where an aquarium comes in. Even though fish aren't snuggly like cats and dogs, having an aquarium can still add something fun to your life—as well as adding a beautiful, living accent to the interior of your home.
Setting Up Your Aquarium
Fish don't require as much daily responsibility as cats and dogs; their biggest maintenance requirement comes in the initial setup of the aquarium. You'll first need to choose a spot to place your aquarium, keeping in mind that it should be set up out of direct sunlight and away from air conditioning and heat vents to avoid quick temperature changes. It should also be placed near an electrical outlet. Then, rinse out your aquarium, rest it on its stand, and make sure it's level before starting to fill it with water.
Your Aquarium's Water
Choosing what type of water to use in your aquarium is a big question. Do you want to have a freshwater tank or saltwater tank? Do you need to use hard or soft water? The answers to these questions will largely depend on what type of fish you want to keep in your aquarium. Very hard water isn't ideal for aquariums—this is often referred to as creating a "liquid rock zone" due to its many minerals. However, certain fish can indeed thrive in moderately hard water. Conversely, some fish do better in soft water.
The first step here is to ascertain what kind of water supply your home has. If you don't have a water softener system installed at your residence, your water is likely hard, which means you might need to procure certain fish. Alternatively, if the fish you'd like do well in soft water, you could have a water softener system installed at your home. So, consider your water's pH levels and consult your local aquarium shop about the pH levels of their various tanks when planning which fish you want in your aquarium.
Need Soft Water for Your Aquarium?
Now that you've set up your aquarium, determined the hardness of your home's water supply, and talked with your local aquarium shop about the environmental needs of your favorite fish, do you find yourself in need of a water softener system to bring your home's water supply up to par for your new friends? If so, don't hesitate to reach out to Miami Water & Air! We've been expertly installing water softeners and other water treatment systems for Florida homeowners for years, earning us a long-standing pristine reputation and a wealth of industry expertise. We're the pros to turn to for all of your home's water treatment needs—contact us today to learn more or to schedule a free home water test at your Florida residence.