What Are the Benefits of Alkaline Water?
Nov 04, 2022
You may have heard about alkaline water tasting better than mildly acidic water, but did you know that it has health benefits too? It's true! At Miami Water & Air, we proudly install alkaline water systems in Miami-Dade, Broward, and Monroe counties, and we can help break down why these systems are such an amazing investment for any home.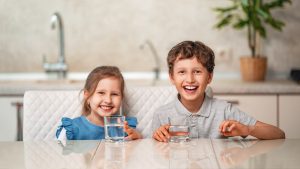 What Is Alkaline Water?
The "alkaline" in alkaline water refers to its pH level. pH numbers measure how acidic or alkaline a substance is on a scale from 0 to 14. The higher the pH level, the more alkaline (and less acidic) the substance is. The alkaline water systems that we at Miami Water & Air install work by increasing your water's pH levels through the addition of calcium and magnesium. As a result of a more balanced, neutral pH, your water will taste better.
Is Alkaline Water Better for You?
Alkaline water is a bit of a controversial topic, but only because there isn't enough research to say with 100% certainty that it's better than other types of water out there. However, some studies have suggested that alkaline water might be beneficial for certain bodily functions and ailments, including:
Acid reflux – Drinking naturally carbonated artesian-well alkaline water with a pH of 8.8 may help deactivate pepsin, the main enzyme that causes acid reflux.
Stool – A study conducted in Japan showed that drinking alkaline electrolyzed water slightly improved stool in 60 participants.
Blood flow – Viscosity is the direct measurement of how efficiently blood flows through the vessels, and a study of 100 people in 2016 found a significant difference in whole blood viscosity after consuming high-pH water compared to regular water after a workout.
These scientific studies show that there are benefits to drinking alkaline water, and proponents of this type of water often believe it has even more health benefits, including:
Pro-aging properties
Colon-cleansing properties
Weight loss
Cancer resistance
Immune system support
hydration and skin health
However, more studies need to be conducted to prove these claims. Fortunately, alkaline drinking water is considered safe, and there is no evidence that demonstrates any negative side effects. As a result, you have nothing to lose by drinking alkaline water, and may even gain some health benefits along the way.
Getting Alkaline Water in Your Home
If you're interested in drinking more alkaline water, Miami Water & Air is the perfect company to partner with. We've been installing water treatment systems for Florida homeowners for more than 30 years, so you can count on us to get the job done. For additional peace of mind, all of our workmanship is backed by a one-year installation guarantee and a limited lifetime warranty. We even provide ongoing service for all of the alkaline water systems that we install.
For more information, contact Miami Water & Air today. We offer convenient financing, same- or next-day installation, and a free home water test when you schedule a consultation at your residence.