3 Tips for Cleaner Laundry
Aug 18, 2022
3 Tips for Cleaner Laundry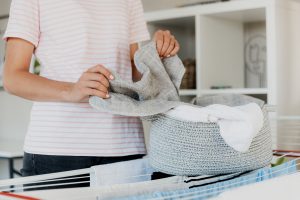 There's nothing worse than pulling clothes out of the dryer only to find that they don't smell as springtime fresh as you expected them to. Your choice becomes: Wear clothes that don't feel fresh and clean, or wash them all over again, wasting water and detergent on a process that should have gotten it right the first time. But don't worry; there are things you can do to get your clothes cleaner! Read on to learn what they are.
Choose the Right Detergent
In the cleaning aisle at the supermarket, most people reach for the laundry detergent they grew up using. Some choose eco-friendly detergents that are great for the environment. Still others create their own laundry detergent, often using pantry items like vinegar, baking soda, and castile soap. So, which type of laundry detergent gets your clothes the cleanest?
The answer depends on what types of stains and dirt you need your detergent to wash away. If you've got kids with frequent soccer practices, your laundry likely needs a strong detergent with stain-fighting ingredients. If you're washing clothes after a day at the office, you'll likely be able to get away with something less harsh (which could make your clothes last longer as an added bonus). People with sensitive skin might need to look for a detergent that's strong enough to clean clothes well without any added dyes or scents. Long story short: Don't be afraid to branch out and try different detergents to determine which one best suits your needs!
Pre-Treat Stubborn Stains
Do you consistently put stained clothing (like that T-shirt you wore while cooking that got an oil stain on it) directly in the wash? If so, you likely find that your detergent alone can't always do the trick in removing stains. Taking some time to pre-treat stubborn stains (like oil, tomato, blood, and grass stains) can result in cleaner laundry overall.
This doesn't have to be a big to-do item; there are a plethora of spot stain removers out there that only take a few minutes right before throwing your clothes in the wash. Another pro tip: Keep a Tide to-go pen handy at the office or in the car so you can pre-treat stains as they happen during the course of your busy life.
Invest in an Ozone Water System for Laundry
After taking time to pre-treat tough stains and throwing your clothes in the wash with the right detergent, what else can you do to assure your clothes get as clean as possible? Aside from using the right settings on the wash machine (cold water for dark colors and delicates, warm or hot water for jeans, whites, bedding, and towels), you can invest in a water treatment system at your home. We recommend an ozone water system, which actually uses ozone during the wash cycle to clean and disinfect the water used to clean your clothes. The result? Cleaner, better-smelling clothes that stay fresh for longer and reduced detergent usage.
Want Cleaner Laundry? We Can Help!
At Miami Water & Air, we're proud to install the best ozone water system for laundry on the market: the CleanStart® laundry system. If you're interested in learning more about having this amazing water treatment system installed at your Florida residence, don't hesitate to reach out today for a free home water test and consultation!